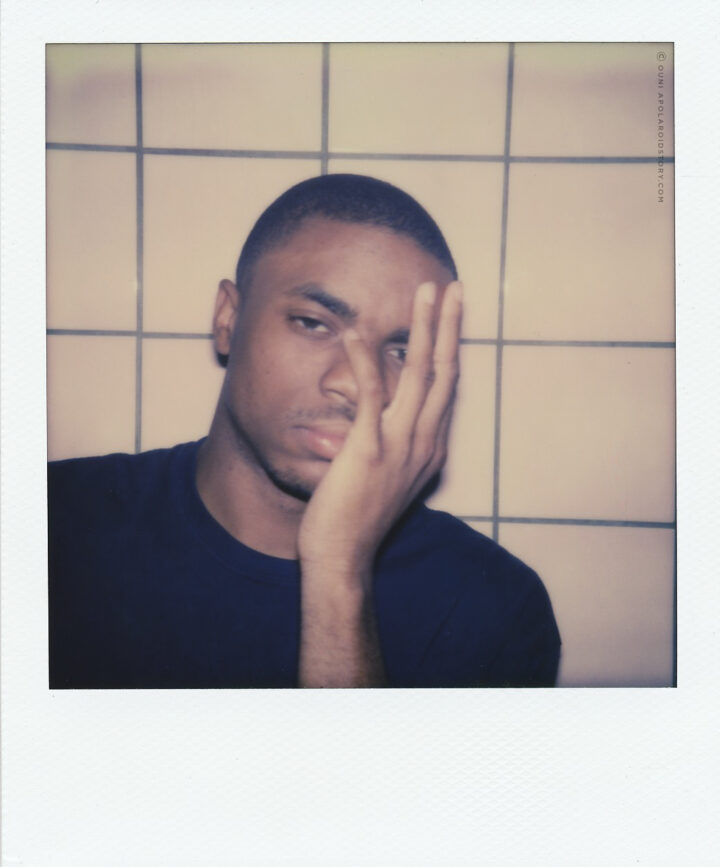 "See, this weight is on my shoulders, pray Jehovah lift me up
And my pain is never over, pills and potions fix me up 
I just want to live it up, can a motherfucker breathe?"
Very excited to finally feature this razor-sharp individual – and might I add – god damn intelligent young rapper called VINCE STAPLES, hailing from the LBC  aka "the city where the skinny carry strong heat" on this modest Polaroid archive of mine.
If you are not familiar with Vince Staples, let me give you a modest introduction real quick.
Although Vince was linked with Odd Future pretty early in his career and already released 4 mixtapes and his 'Hell Can Wait' EP  including the stellar 'Blue Suede', I only stumbled over his music through his incredible 'Summertime 06' debut album, which was – personally for me – one of the best releases in 2015, period. There are many reasons that I can point out for that statement, but storytelling, flow, stone cold production and strong identity are probably the most important ones. 'Summertime 06' hits you like a slap in the face; hard! Don't even get me started on the visuals released with every track; stunning. Or the choice of features that you might not expect; interesting. (Yes I'm referring to that Future x Snoh Aalegra 'Señorita' combo.) There is not one track on the grim sounding 'Summertime 06' (executively produced by No I.D.) that I don't like, but these personal highlights Norf Norf, Señorita, Jump Off The Roof, Lift Me Up and Lemme Know, might give you a good idea of what Vince Staples is all about.
But besides the level of excellence in his music, this kid from Long Beach, California – who grew up in the midst of LA gang culture, a returning topic in his lyrics – is not pretending to be anything that he is not. He is completely his relaxed self and refuses to play along with certain industry gimmickry, something I find so, so refreshing. He is a much wanted interview guest, mostly because this man isn't your stereotypical rapper and has a thing or two to say. His ability to tell a story or set a vibe through his music while sounding like nobody but himself is what makes Vince Staples rise above many artists in the game. That and his humble point of view on life, his no-nonsense attitude in interviews, his humor and his refreshing but always dead honest point of view on topics whether they are social, political or cultural. This fella is an example for his peers in the industry and humbles everything down in levels I have rarely seen with artists. Also, did you see him passing by in the movie Dope? I see him going into acting, easily!
Straight to the story behind the Polaroid. I met Vince Staples briefly at my favorite Belgian festival, Les Ardentes Festival, only a month ago. I was actually planning to have an interview with him, but turns out my camera lady couldn't make it last-minute and I was stuck with making the decision if I was going to set up the camera myself and possibly risk a pretty bad sounding video interview, which I absolutely hate. I like crisp sound, what can I say. It was day 3 of the festival and I was drop dead tired from the nonstop APS run I was doing with my team (there is so much to come, you have no idea) my energy was a bit off and I decided to just focus on getting some decent Polaroid shots instead of forcing myself preparing a bad meaningless interview, another thing I'm not a fan of. If I don't have the time to properly prepare an interview, I most likely will not do it. Plus, my Vince Staples obsession has been too deep to ask stupid questions like "what did you have for lunch this afternoon?". Besides that, the usual time frame I'm mostly granted for taking my Polaroid shots mostly finds itself between 3 to 5 minutes (yeah try that son) so I proposed to spend my time slot with taking some decent shots in the circumstances we were at.
But before the Polaroid, there was the performance.
Exhibits:
On a performance level I think Vince Staples is very promising. I suspect he was a bit tired from the long journey, and he had to rock a humongous crowd by his lonesome, which is never to be underestimated, however I do look forward to see him in a smaller venue where I believe he can install deep impact.
After his performance Vince took some time to take a few shots with me.
Exhibits:

Funny sidenote is that I put him in the entrance hallway of the artists toilets. Many big rappers would nòt have that, but I explained him that I wanted to see if the pink tiles gave anything on Polaroid, and he didn't have any problem at all to pose in the midst of a urinating environment.  That's Vince Staples for ya.
Vince doesn't have the typical big crib million dollar dream ambitions, hell, I doubt this man will ever wear a chain. This fella stated that he is already happy paying rent. Vince calls himself for and from the people and exactly thàt is what will make him go above and beyond. I'm genuinely hoping that our paths cross again soon, I would love to make some time to talk music in a proper video interview.
Vince Staples is currently preparing to release his PRIMA DONNA EP somewhere late August, a six track project with features from A$AP Rocky, Kilo Kish and production by the hands of DJ Dahi & No I.D ànd…James Blake.
High expectations? Yes indeed.
I leave you with a few of my favorite Polaroid shots we took that day.
Thanks for reading,
Ouni
Special thanks to Melis Bilmez, Daniil Lavrovski and GreenHouse Talent for their contributions to this story.