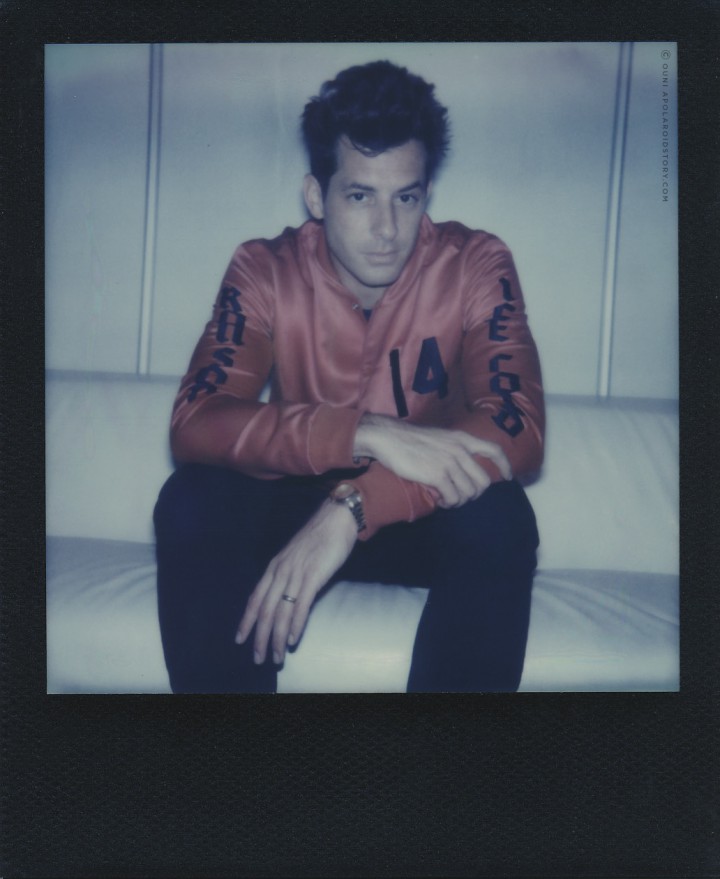 Very proud to have none other than UK musician, producer and grammy award winner MARK RONSON on this little platform of mine. For the second time that is. You can catch up on my first APS encounter with the man here. 
I doubt this man needs any introducation anymore. His track 'Uptown Funk' featuring Bruno Mars from Mark his fourth album 'Uptown Special' was 2015's biggest record breaking and may I add massive global hit. After producing 3 stellar tracks for Bruno Mars ('Gorilla', 'Locked Out Of Heaven' & 'Moonshine') this fourth 'Uptown Funk' collaboration hit the jackpot and made Mark Ronson officially a global household name with the song winning three 2015 Grammy awards, a Brit Award ànd an MTV Video Award. The meanwhile classic, vibrant and energetic video currently hits 1.818.232.700 views and counting… Besides that, the tracks holds different record breaking accolations to its name in terms of both streaming and sales. Long story short, Mark Ronson casually slayed, yet again.
Let's go straight to the story behind the Polaroid.
When I found out Mark would play a closing DJ-set at this summers Les Ardentes Festival, I decided to hit him up and ask if he was down to meet up again. It has been six years since we first met in Belgium, in the midst of his 'Record Collection' album tour. I was a freshmen doing APS in it's very early stages and somehow I ended up having a long interview or rather conversation with Mark in the lobby of his hotel in the middle of the night. After that, we even hit Brussels nightlife and went to the Brussels L'Archiduc bar with his band to have some downtown moments. While doing the interview, one of my very first even, Mark gave me a huge compliment, telling me that I'm obviously not a journalist, because I actually researched my questions and have a genuine love for music. His compliment made a deep impact on me, because it gave me the courage to keep on persueing intricate moments or conversations with artist and it made me believe in myself and my work a bit more.
Needless to share I'm very happy and proud to share my very first video interview with Mark Ronson, where we look back on the making of 'Uptown Funk', talk about his involvement in the new and upcoming Lady Gaga album Mark is producing, his newfound appreciation for Los Angeles, his take on age in music and last but not least, a refreshing and humble point of view on Mark his personal success. I hope you enjoy.
Interesting fact behind this interview is that this was done literally right before his DJ-set at Les Ardentes Festival. We had to take the Polaroids straight àfter his performance, which is always a risk, considering the fact that most artists are fickle and have the tendency to change their mind, regardless if they like you or not. It's nothing personal, it's something I have learned while doing APS over the years. There are no guarantees. Mark played a 90min dj-set and while we were waiting and watching his set, we all felt that we might have to miss out on the Polaroid moment. It's pretty exhausting to be responsible of the closing moments of a festival crowd and when Mark finally came back around 1PM I felt his exhaustion. He was already on his way out towards his hotel when he saw us, realised he promised the Polaroid moment and réally gave his last percentage of energy to get the Polaroid moment done. I wanted to share that with you guys, many would have dodged out, but Mark really made an effort for this to happen and I appreciate this whole heartedly.
I leave you guys with the traditional APS exhibits shots from my moments with Mark.
Thanks for reading.
Love,
Ouni
Special thanks to Daniil Lavrovski, Pieter-Jan Claessens & Melis Bilmez for their contributions to this feature.