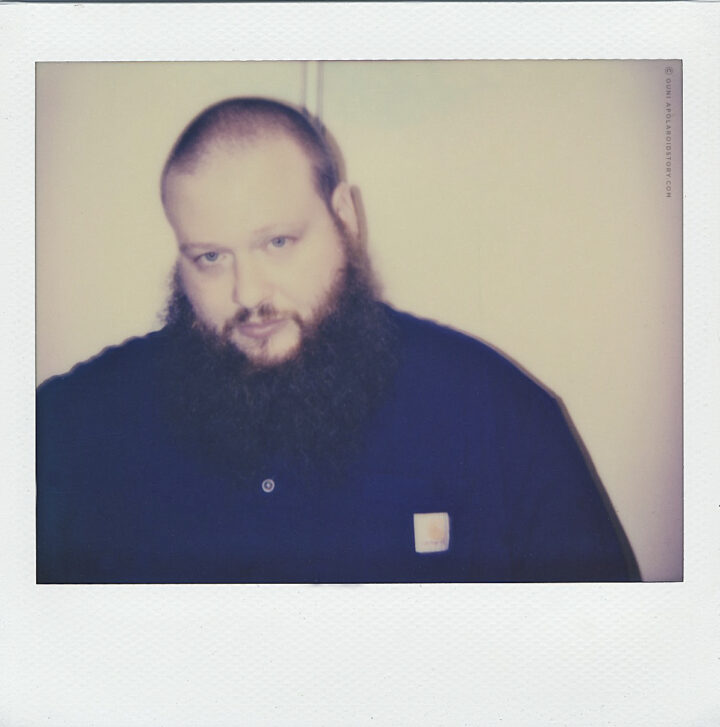 Delighted to add Arian Asllani, better known as Action Bronson to this precious polaroid archive of mine. Often compared to Wu-Tang Clan's legendary GhostFace Killah, this Queens native masters both the art of rap as the skills of a true gourmet chef.
Bronson's rise in the hiphop game came around 2011 with the release of  his debut album 'Dr. Lecter' and collaborative releases like 'Well-Done' with producer Statik Selektah and the 'Blue Chips' mixtape series with producer Party Supplies but officially took his spot in the music industry after the release of his 2015  album titled 'Mr. Wonderful' with 'Actin Crazy' and 'Baby Blue' as the leading singles. Bronson is also affiliated with the VICE network where he hosts his own foodshow called Fuck, That's Delicious.
Exhibits: (shot by Daniil Lavrovski exclusively for APolaroidStory.Com at Les Ardentes Festival) 
In regards to the story behind the Polaroid I can remain very brief. The polaroids were shot this past summer at Les Ardentes Festival. I was introduced to Action Bronson's tour management via GreenHouse Talent Belgium and after a quick introduction chat I was granted a short moment with Bronson who just enjoyed a solitary meal in his backstage lodge and just wrapped up a little table football with the fellas from YelaWolf. Bronson was already on his way out, so there wasn't really anytime to connect or talk music so I took the few minutes I was granted to focus on the Polaroids mainly. It's not easy to take some good shots in less than a minute, but as always I work with what I'm given.
In the following additional APS video document you can watch our Polaroid moment and enjoy a few of Action Bronson's concert highlights at Les Ardentes Festival.
Exhibit:
Mr. Wonderful is allegedly working on a spin-off book based on his recently launched Viceland show which should result in a lifestyle cookbook called 'F*ck, That's Delicious: An Annotated Guide to Eating Well' due somewhere in the fall of 2017.

I leave you with the additional Polaroids we took that moment.

   
Thanks for catching up!
Love,
Ouni
Special thanks to Melis Bilmez, Daniil Lavrovski, Greenhouse Talent, Rutger Claes, Pieter-Jan Claessens for their contributions to this story.