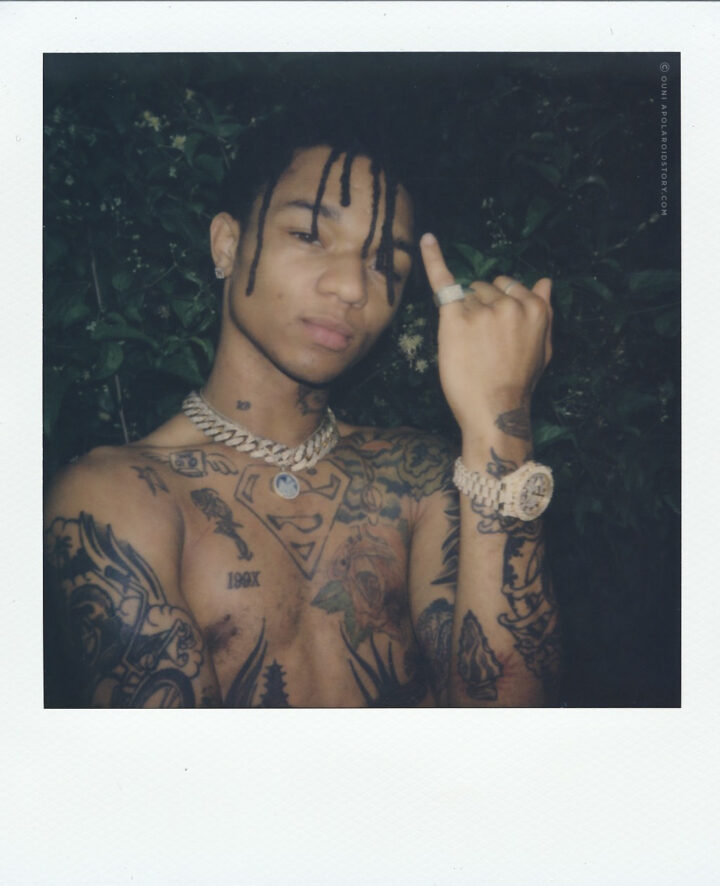 Happy to feature Khalif 'Swae Lee' Brown part of the infamous 'RAE SREMMURD' group for the second time on this modest little platform of mine.
If you guys missed out on the first APS feature with the Sremmurd boys,  you can still catch up on that here. After almost two years putting in work, Khalif 'Swae Lee' Brown and Aaquil 'Slim Jimmy' Brown proved us everything but to be another one-hit-wonder. They followed up their debut album SREMMLIFE   – which went both gold and platinum – with a sophomore album, appropriately titled SREMMLIFE 2  – which also went platinum. They've been touring like crazy and concurred the world with tracks like 'Swang', 'By Chance' and 'Black Beatles' while the future is only looking even more promising. A year ago we were wondering if the boys could keep up their success only releasing party anthems but it seems like they absolutely did. The brothers received a lot of critical acclaim for their music projects, got nominated several times for different accolades and stacked awards like the BET Awards for Best Group 2016 and the Billboard Music Award for Best Rap Collaboration 2017 together with Gucci Mane for their banger 'Black Beatles'. Besides that, the 'Mike Will Made It' produced  'Black Beatles' track became the unofficial soundtrack for the viral  #MannequinChallenge which made the track go up to more than 50 million streams, have the video for the track blow up  to about 290 million (and counting) views and on top of all that the track ignited a content explosion from people all over the world sharing their own mannequin challenge through social media scored by … you guessed it; 'Black Beatles'. A dozen celebrities also happily jumped on the hype, including The Beatles' very own Sir James Paul McCartney. Not bad for two brothers from Mississippi once labeled a one hit wonder? Last but not least, in the past years, Swae Lee proved to have a knack for recognisable hooks & melodies, something he showcased with solo features on other artists tracks like 'Drinks On Us' and most recently his smash hit feature with French Montana for 'Unforgettable'.  Because of Swae his solo features, a rumor mill officially kicked off and industry whispers are going around that the brothers might release solo work… 
Now this is the story behind the Polaroid.
I tried to meet up with the brothers ever since we briefly met two years ago at Les Ardentes Festival. We crossed paths once more, very briefly, somewhere in between those two years at Encore Festival, Amsterdam. Rae Sremmurd was headlining the festival at the time and while passing me by on their way to the Encore festival main stage, they yelled at me if I'd be still around for some new Polaroids after? We only met once and most artists do get a little bit cocky a few years after their success has exploded, so I was surprised that they even remembered who the F I was. I was portraying Tory Lanez that day and it turned out that was the last time I saw them. The boys were promoting their sophomore album Sremmlife 2 last January with the Sremmlife II Tour which landed them in Ghent, Belgium for another sold out show on their list. Unfortunately I wasn't able to reach them on time, the concert was sold out and that was that. So when I heard that the boys were booked at Les Ardentes Festival this summer I knew this was my chance to meet up with them and have a conversation. Ever since I met the two at the same festival two years ago, I always remembered how totally open and nice they responded to me and to what I came to do that day I walked in their backstage lodge and I remember regretting very hard that I didn't have a 'ready to go interview' sheet with me to ask them a bunch of questions because I felt that they were totally down to talk and hang on top of taking Polaroids. And so it happened, only a few hours before their performance at Les Ardentes Festival,  I was set to meet up with the boys in a very windy and not so silent corner of the festival to catch up. To my surprise, Swae Lee came walking in alone.
The following video document captures  Rae Sremmurds' epic intro at Les Ardentes Festival 2017 and features a conversation with Swae Lee. Enjoy.
Exhibit Video:
The only one missing was the man of the hour, the podium beast, the bomb of energy that is Slim Jimmy. Not sure what is going on exactly, but I do hope industry whispers are not taking their brotherly bond away. Rae Sremmurd as in Jimmy ànd Swae Lee are one of the few new school rap/trap/hiphop acts that are capable of completely manipulating a crowds' energy into a massive energy bomb. In all my years that I do APS, I rarely have seen that rock star level, that type of performance, that crowd control, that high energy.  It's mainly for that reason I left the intro from the video un cut, because although it is not shot perfectly, it is what it is in that moment and since Jimmy didn't show up to the interview I wanted to showcase how present Jimmy is on stage, since my intention was to shoot them both. That raw talent, that fire synergy will only be manifested when the brothers are powered together like Yin and Yang and regardless of any solo projects or ambitions they may or may not come out with, they will forever be known as the Black Beatles and I'm pretty sure Sremmlife 3 is going to silence all fire starters and solo rumours for the third time. In the words of Swae Lee: "A Knock-Out Punch For Real."
APS Exhibits shot by Daniil Lavrovski exclusively for APolaroidStory.Com
On a production note? I'm not gonna lie. It's super difficult to do interviews at festivals. The environment of a festival is high paced with bursting high energy from the crowd all around you. Artists meet other artists, some want to shower, some want to have a moment of rest or grab some food at the catering before they perform so most artists are not really too keen on doing sit-down interviews but rather into enjoying the moment of their tour experience, which I totally get, to be honest. It's very rare that interviews are 100% approved days before the festival so if you have about 10 options running on the same festival day you can spend your days and nights trying to prepare those 10 'maybe, maybe not' interviews with the risk of interviewing nobody in worst (and most) case scenario. I feel more comfortable doing interviews when I can research a lot (read: 8 hours at least) and dive myself totally into an artist their world, but that takes time, something you don't always get at a festival where an interview is approved in the middle of the afternoon and then is about to happen…. in the next 60 minutes. It's all very 'run and gun' and you kinda have to roll with the punches with the material you have and just hope it will turn alright. I'm sorry for the bad sound quality,  we didn't expect to have some many interviews approved so last minute, so we had to work with what we had in the setting that we were at.
I'm very grateful that Swae Lee was so kind to take time out of his touring schedule for a random girl he met two years ago and felt comfortable enough to share a few things with me (and you) in a genuine,  laid-back way. Because we ended up talking so long, the Polaroid moment was very briefly so I'm still aiming for my perfect Polaroid shot of both of the boys. All productional issues aside: This is the type of APS story I love the most, when things simply manifest and you roll with the punches the best you can.
I leave you with the Polaroids I shot from Swae that day.
 
Thanks for checking in,
Love,
OUNI
Special thanks to Jeremy D'Hamers, Davy DenDuyver, Daniil Lavrovski, Laura Disaronno, Les Ardentes Festival & Universal Music for their contributions to this story.