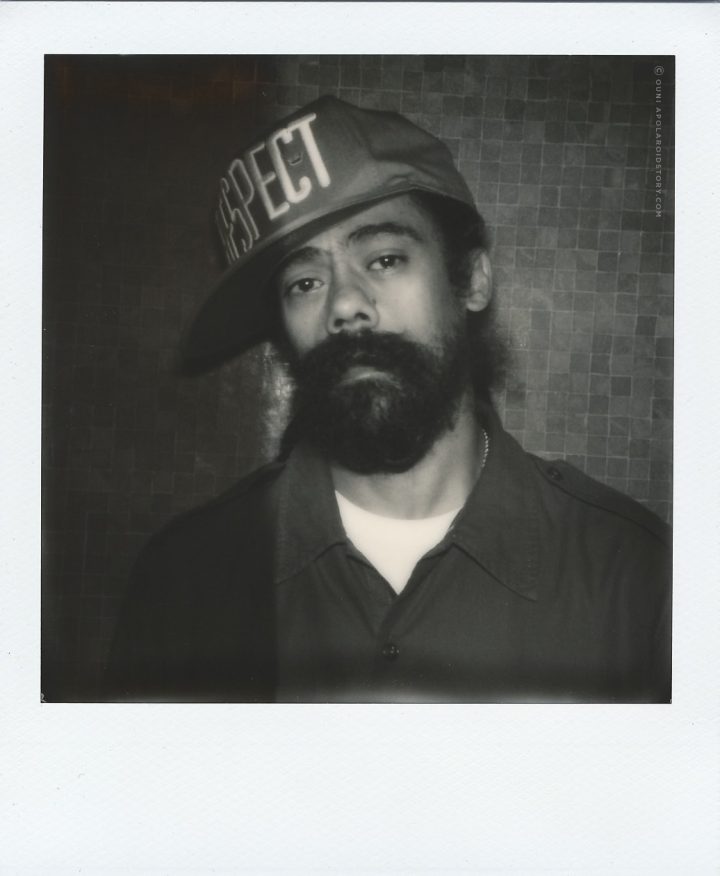 Needless to say I'm beyond honoured, humbled and grateful to feature none other than Damian Robert Nesta 'Jr. Gong' Marley aka Damian Marley, son of the great Bob Marley. Not familiar with Damian his work? Let me be so kind to go through one of Jamaica's biggest stars and his repertoire real quick.
Born in Kingston, Jamaica to the legendary Bob Marley and former Miss World and jazz singer Cindy Breakspear, Damian grew up as the youngest child of the family.  Damian never got to know his father, who died when Damian was only two years old, however, it was very clear Damian wanted to do something with his musical roots very early on in his life. He started performing at the age of 13 with his first band called the Shephards. With the support of his father's label 'Tuff Gong' and with the help of his older brother Stephen Marley, Damian released his debut album 'Mr. Marley' in 1996. He followed up his discography with a second album called 'Halfway Tree' in 2001 on which he  combined reggae mixed up with dance hall and hip hop. The album received a lot of critical acclaim and even won the Grammy Award for Best Reggae Album in 2002. Damian's real commercial breakthrough was in 2005 with the release of his third studio album 'Welcome to Jamrock'. With singles like 'The Master Has Come Back', 'Road to Zion' featuring Nas, and 'Khaki Suit' featuring Bounty Killer, the album went gold and sold over 500,000 copies in the USA. 'Welcome to Jamrock' peaked at 7 in the Billboard Top 200 Album chart and won another Grammy Award for Best Reggae Album Of The Year. In 2010 Damian teamed up with NAS for their collaborative album 'Distant Relatives'. In contrast with the amazing success of tracks like 'Nah Mean', 'As We Enter' , 'Patience' and 'Strong Will Continue' many fans righteously state this collaborative masterpiece remained too underrated. After a break of a few years, Damian made his comeback earlier this year with a brand new album titled 'Stony Hill' released on July 21st 2017, which officially marks Damian his solar return and 39th birthday. With singles like 'Nail Pon Cross', 'R.O.A.R' and the absolutely beautiful  'Medication' featuring his brother Stephen Marley, Damian considers this album as one of his purest music projects to date. Besides releasing new music into the world, Damian probably scored the feature of the year with his lyrical presence on Jay-Z's 'BAM' track, a single from Hova's long anticipated and much dissected 4:44 album. Beyond his musical comeback, Damian Marley made the news recently because of his extraordinary adoption of a Nairobi lion in support of the conservation of the animal we all know as the King of the Jungle and is also very prominent in Rastafari symbolism.
Now this is the story behind the Polaroid.
While preparing my run at Couleur Cafe Festival with JSMN (coming soon) I noticed that Damian Marley was headlining the festival the same day. I didn't really know how my planning would look like since I was scheduled to portray JMSN somewhere during the late afternoon, but I figured it could not hurt to send out a request to Roc Nation to see if they would respond. To my surprise, they did. However, as it is always the case with last-minute, overseas arrangements, the time difference and the constricted time frame (24hrs in advance) made the request pending until 9-30 PM European time. Right after the sun set that day I got a whatsapp message from Damian his tour manager that he would come and pick us up for a meeting with Damian. And so it happened.  You can watch a brief recap of our encounter with Damian Marley in the following video document:
APS Exhibit:
Doing APS over the years, I'm rarely impressed by artists anymore, I lost the admiration part of it all somewhere along the road which is a good thing, since my focus on executing the work is much higher but I felt genuinely humbled to be in the presence of Damian Marley. I walked in the dimly lit backstage living room and found Damian on a sofa enjoying some ganja. The tour manager suggested I would introduce my work first before anything. I was a bit nervous to show my work, Damian was listening focused but quietly, carefully screening me with his eyes wondering what to think of me. I briefly took him through my APolaroidStory.Com website and mentioned a few key videos I made that I hoped he would find interesting and showed him a few portraits on my archive after which he agreed to proceed with the feature and we took a few shots. After the Polaroid moment Damian asked me if I didn't want to do an interview and I explained him that the timeframe of approval was so tight that it was impossible for me to prepare an interview without knowing 100% if said interview would be approved or not. I told him I don't like to waste people their time with ignorant questions for the sake of doing a half ass interview and he replied that he appreciated that. Our meeting was brief, but I had the chance to show Damian my work and explain him what the concept of my platform was all about and I told him that I hoped to do a proper interview somewhere during his upcoming 'Stoney Hill' tour. Time will tell if our paths will cross again, but if we do,  I will have my questions ready ànd I will try to take a bit more Polaroids… Damian his response to my heavy Polaroid cam flash made me chicken out (yup) to push for more Polaroids, so I kept it brief and only took 3 Polaroid shots. Another unfortunate thing is that we couldn't stay to capture his Couleur Café headlining ànd festival closing performance because I didn't expect to have this feature approved and we aka #TeamNoCar had to leave the festival before midnight to catch the last train home….
I leave you with the Polaroids I took that evening.
Exhibits:
Thanks for checking in,
Love,
OUNI
Special thanks to Couleur Café, Roc Nation, Daniil Lavrovski, Jeremy D'Hamers & Laura Disaronno for their contributions to this story.