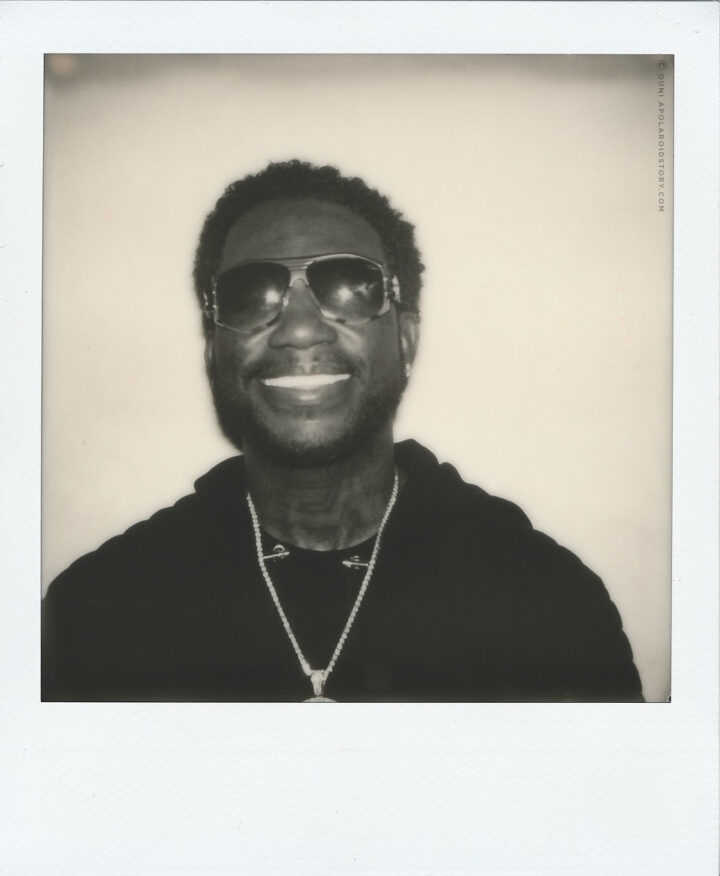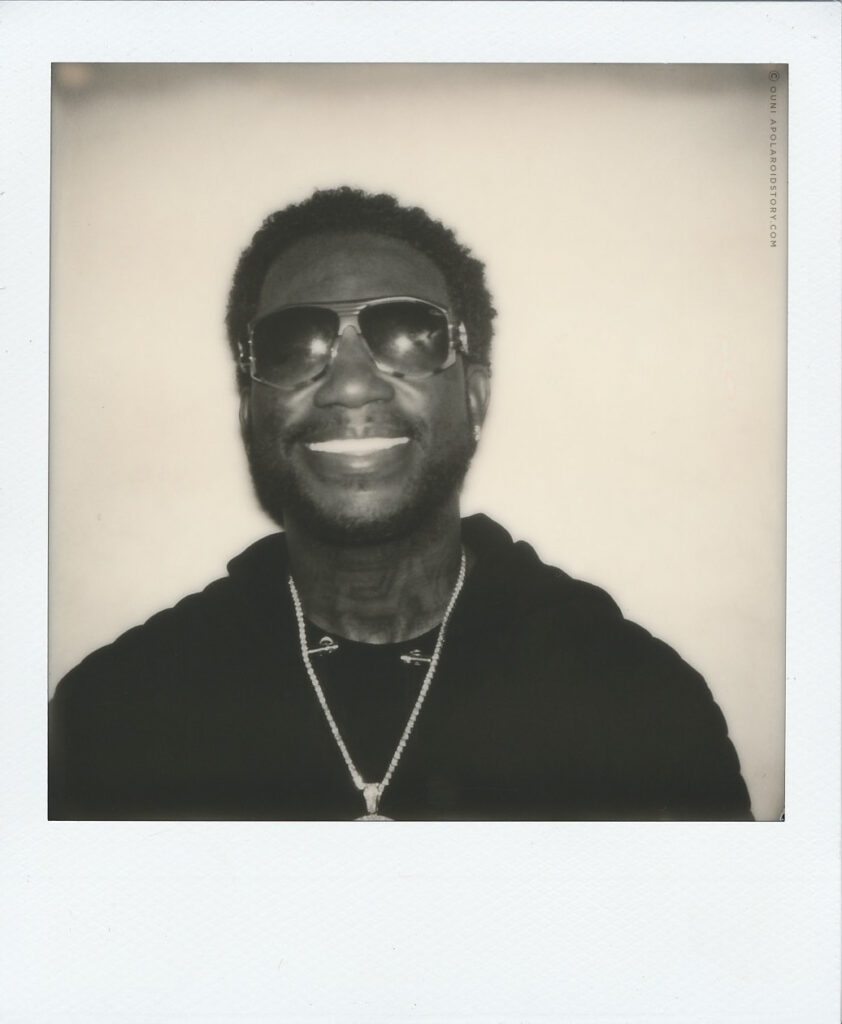 Unbelievable but true. You are witnessing a Polaroid feature of Radric Delantic Davis aka GUCCI MANE aka Gucci Mane La Flare, aka Wizop, aka Big Guwop, … (the list goes on), hailing from Atlanta, on this modest little platform of mine. Not familiar with this iconic rap talent who almost got locked up as much as he dropped mixtapes? Let me be so kind to introduce you to the Trap God real quick.
Originally born in Birmingham, Alabama, little Radric moved together with his mother to Atlanta when he was 9 years old. Writing his own poetry and rhymes as a child it was quickly clear Radric wanted to do something with rap. Before starting high school Radric already spent some time in the studio, his single 'Black Tee' was Gucci's very first hit song in the local industry. It even delivered him a contract with Big Cat Records, However, Gucci Mane's real breakthrough was in 2005 when Gucci Mane and Atlanta's other big trap pioneer Young Jeezy released 'Icy', a single from Gucci his debut album 'Trap House'. Discussions about who the song belongs to caused an eternal vendetta between the 'Trap God' and 'Jeezy the Snowman', a feud that still pops up every now and then. The drama involved Young Jeezy sending out hitmen to snatch Wop's chain and Gucci allegedly murdering one of Jeezy's partners. On his 2012 'Trap God' tape, Gucci raps "Go and dig your partner up, bet he won't say shit." Ok. Well. That aside, Radric declared in court that the accident was pure self-defense and due to the lack of evidence Gucci was released that same month. Gucci got back in the studio and released his second album 'Hard to Kill' in 2006 with the album lead single 'Freaky Gurl' doing very well in different national charts. In 2007 Gucci was back with another album called 'Back To The Traphouse', seen as his very first commercial album. In 2009 Radric added another album to his discography titled 'The State vs. Radric Davis'. This project got him eventually a signed deal with Warner Bros Records. Between 2010 and 2014 Gucci kept on dropping dozens of projects. 
Truth be told? There are  simply too much projects and releases to sum up for you to discover the extended body of Gucci his work. Gucci recently quoted on one of his most recent projects 'Drop Top Wop': "A 100 tapes and counting, go check my discography" .  I can only motivate to dig into his extremely extended discography when you have a minute and feel like dipping into an endless sound bath of Guwop. During his longest incarceration period (from 2014-2016) Gucci his engineers released about 30 Gucci Mane mixtapes. Before 2016's 'Everybody Looking', it was also rumoured that Wizop never wrote down a single line.  The heated debate about mumble rap aside, fact is : if you delve further into Gucci his lyrical style, you can't deny he is one of the greatest in his own trap lane. He is the father of pretty much every single trap flow you hear in hiphop's current streaming today whether you like that style or not.  
Late 2016, Gucci was released out of jail, after many years getting in trouble with the law and eventually sitting out a two year sentence for possession of a firearm by a convicted felon. Guwop was out and #FreeGucci a fact. Radric made his comeback into the public eye, fitter than ever – as showcased in his 'First Day Out Tha Feds'  video – and much to everyone's surprise: totally sober. Wizop engaged to his longtime 'ride or die' girlfriend Keyshia Ka'ior  just a few months later.
Aside from slowly being recognized as one of the most influential rappers of the trap genre, Big Guwop might be one of the best A&R's in the game as well. Just to list a few of the names he discovered or helped put on the map: Waka Flocka Flame, Young Thug, Nicki Minaj, Migos, Young Scooter, Young Dolph, Future, Zaytoven, Mike Will … the list goes on. At least one artist you listen to today has been influenced by Gucci Mane in some matter or form, a statement Gucci makes on 'All My Children' featured on his 2016 comeback LP  'Everybody Looking'. The video features cartoon-esk renditions of popular rappers such as Young Thug, Lil Uzi Vert, Rae Sremmurd and more all sitting on Gucci's lap. Since we are talking Sremmlife, 'Black Beatles' was Gucci his very first number one hit on the Billboard 100 Chart. Another fun fact: on one of their earliest collaborations, Gucci rapped "Mike Will Made It, Gucci Mane slayed it" and that's allegedly how Mike Will's nickname was born. In more recent Mike Will news, the beat for Kendrick Lamar's 'Humble' was originally meant to be for Gucci Mane, but the Wop kindly passed on it from one (T)rap God to another.
Now this is the story behind the Polaroid.
If there was ever a time to laugh with yours truly, it was probably that moment when I witnessed Gucci walking back from his performance at Les Ardentes Festival towards the artist area. During our walk back from the stage Gucci just performed at my photographer Daniil stopped at a bar to grab some beers. Big mistake. There is no time off when you do what I do, if you have no direct artist connection, your moment to capture an artist might be gone in a jiffy. Here we are, laughing and chatting with our hands full of beers when I noticed to my horror that Gucci beat us to the punch and was already out of his car, in the big hallway, walking straight towards the backstage area. There was at least 200 meters between us and only 3 meters before Gucci would disappear into thin backstage air. This was my only moment to capture this man on Polaroid since I have no access to the artist village inside so there was nothing else to do but the following:  I put down the beers in the middle of the hallway, grabbed my Polaroid camera, started running towards him as fast as I could, while I hear the rest of the team saying: "oh shit" and I yelled for the entire sports hall: "GUUUUUUCCCCCCCCCCCIIIIIIIIII." I repeat: If there was ever a moment where I totally embarrassed myself for the sake of this platform, this was it. Fortunately for me and unfortunately for you, my camera guy was literally sleeping while he should have been documenting this truly hilarious moment so he did not capture that epic moment of ultimate crazy girl behaviour. I swear this was one for the books. If this moment was captured on film, I could have put myself on slomo and stretched the whole "GUUUUCCCCCCCCIIII" moment and everybody watching would have died laughing. But no. My camera guy was sleeping. Still not sure If should be grateful or kick his ass for missing that moment. In any case. Gucci saw me coming – cleary – heard my yelling – clearly – and told his bodyguard who was already in full on 'lemme stop this crazy bitch' mode, that it was ok to approach him. In my defence? My 'GUCCI' scream was very passionate. Very 'Gucci Please' but louder and slightly desperate, but definitely passionate. So I introduced myself, asked him if could take a few shots and he was super down, super friendly and super smiley.
You can watch my Polaroid moment with Gucci and catch a glimpse of his performance at Les Ardentes Festival in the following video document. Enjoy.
Exhibits:
I wish I had some more time to capture the East Atlanta Santa in different poses, but I felt I could not stretch the moment too long. I also felt I could not ask him to take his glasses off, the man was literally still sweating from his performance so I knew I couldn't push it too far, plus it was also very clear Gucci currently prefers one main pose which is the 'COLGATE' so I let him do his thing,  aimed my camera and hoped for the best.
A brand new Wop is definitely here, one who seems grateful for the new opportunities his long career has given. Gucci Mane surprised many rap game fans with his 360 degrees switch into a straight-up positive attitude amidst a currently heavy drug and misogyny filled industry, smiling his way through every new video, every new track, every new Instagram post, every new country he finally sets foot in and every camera that wants to capture him. Well, we're all here for it. Burrr!
I leave you with the 3 Gucci Polaroids I took that day.
 
Love,
OUNI
Special thanks to Davy Denduyver, Laura Disaronno, Jeremy D'Hamers & Daniil Lavrovski  for their contributions to this story.