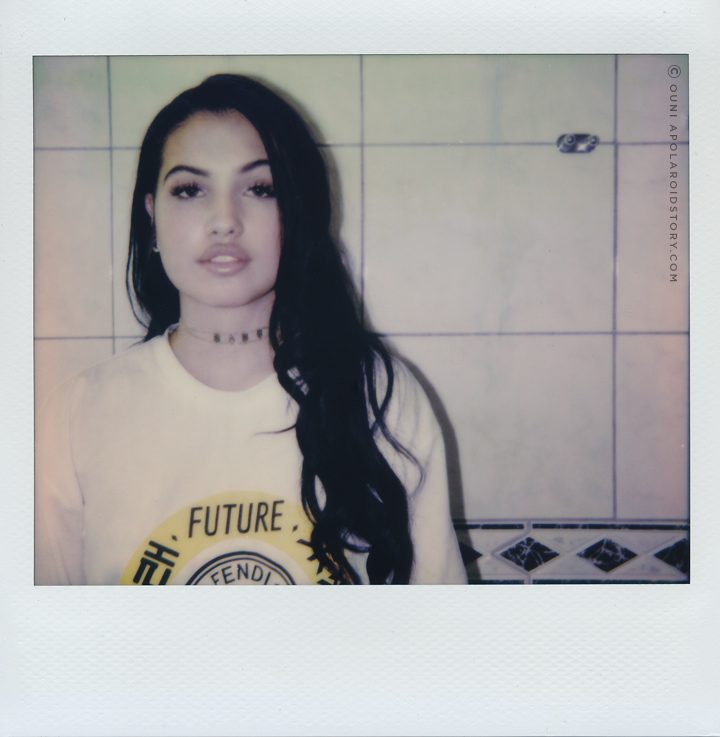 Happy to feature the lovely Mabel Mcvey, better known as MABEL, a  songbird part of a flock of individual songstresses all emerging from the UK, ready to dominate the charts of the future. Not familiar with this 22-year-old singer/songwriter born in Malaga Spain, but hailing from both London, Stockholm and Sierra Leone? Let me be so kind to introduce you real quick!
Mabel, born in a musical household consisting of her mother,  the legendary singer/songwriter Neneh Cherry and father Cameron McVey (also known as Booga Bear) a record producer known for his pretty familiar work with Massive Attack, Portishead, All Saints and Sugababes/ Mutya Keisha Siobhan to name a few. Granted, knowing those simple facts, you might suspect a bit of nepotism when it comes to the musical journey of this young lady but that is one easy judgement Mabel is quite determined to make negligible track by track.  In the words of Trinidad James: "Don't Believe Me, Just Watch." Mabel first emerged on the scene somewhere in 2015, very low-key via her Soundcloud channel with the song 'Know Me Better' but really drew attention in 2016 with the release of the track (and video) for 'Thinking Of You'. With that song her identity as a lover of UK meets US 90's r'n'b was solidified. In 2017 she followed up with a modest debut project titled 'Bedroom' consisting of 4 tracks with the moody  'Ride Or Die' as a personal favorite,  but it was her 'Ivy To Roses' mix tape, released later in 2017,  that catapulted her to main stage level including leading single 'Finders Keepers' (featuring Kojo Funds) but also other  efforts with frequent collaborator Not3s on tracks like 'Fine Line'  & 'My Lover' stacking up undeniable streaming numbers and a steadily growing fanbase. Add her bravery for doing risky covers like Destiny's Child  'Say My Name' or Chris Brown's epic 'Excuse Me Miss' to that repertoire ànd a Brits Critics Choice Award 2018 nomination to her name and then you might agree that Mabel is definitely one to watch or at least a moment worth your ear-time.
Mabel is a diamond in the rough with a strong sense of melody, a vocal playfulness and a timeless songwriting style and productional feeling that reminisces of the original r'n'b queens like Amerie, Mýa, Tweet or Ashanti and if you stick closer to home she might even remind you of those 90's UK vocalists like Gabrielle, Jodie Aysha, and Mutya Buena. Mabel understands the power of a simple love song, the ones we all know from back in the day, the ones that recount simple emotions and stories that are relatable. Not the dark twisted destructive and druggadocio onces from the Weeknd that became so popular in the r'n'b genre  – I love 'House Of Balloons', in case you had any doubts –  but you know; those pure, innocent and incredibly emotional ones we hold dear  from the likes of Aaliyah, Lauryn Hill or even Mary J Blige, albeit dripped in a contemporary/young millennial point of view.  That typical, classic, bubbly R'n'B sound struggled over the years to stay relevant, with the genre competing with a more productionally dark wave of trap and mumble rap claiming coveted spots in the charts. However, Mabel is part of a new branch of powerful UK vocalists like the poppy Anne-Marie, the gloomy Jorja Smith and even the grimey Stefflon Don who all are doing their own thing right now while still bringing that good old 'je ne sais quoi' feeling back.  I'm sure in due time, she will be able to even nail that dark, gloomy neo r'n'b which her peers like Tinashe and Jorja Smith already master. I'm not a fan of comparisons but I can't help to think of Aaliyah when I hear Mabel sing, she channels the same vulnerability and eerie mood in her harmonies and I do miss that in music today. Maybe I'm bugging.  Time will tell where Mabel her journey will lead towards, nothing is a given in this fickle, stream-driven industry but Mabel channels enough growth potential and vocal skillset to direct her to the realm she will eventually excel in. Mabel is set to release her debut album by the end of 2018 or early 2019.
Enjoy the following video interview with Mabel where we discuss her heritage and musical upbringing,  her love for 90's R'n'B, her musical relationship with Not3s,  her aspirations for the future and much more!
Exhibit:
Want to listen to this full interview on-the-go?  Download the Anchor app and favorite 'A Polaroid Story' or click here.
I leave you with the Polaroids we took that afternoon.
Exhibit:
 
Thanks for catching up!
(Don't forget to hit that Youtube subscribe button now! 😉
Love,
OUNI
ps:  special thanks to Pamela Evbuomwan, Jeremy D'Hamers, Ekany & Universal Music Belgium for their contributions to this story.