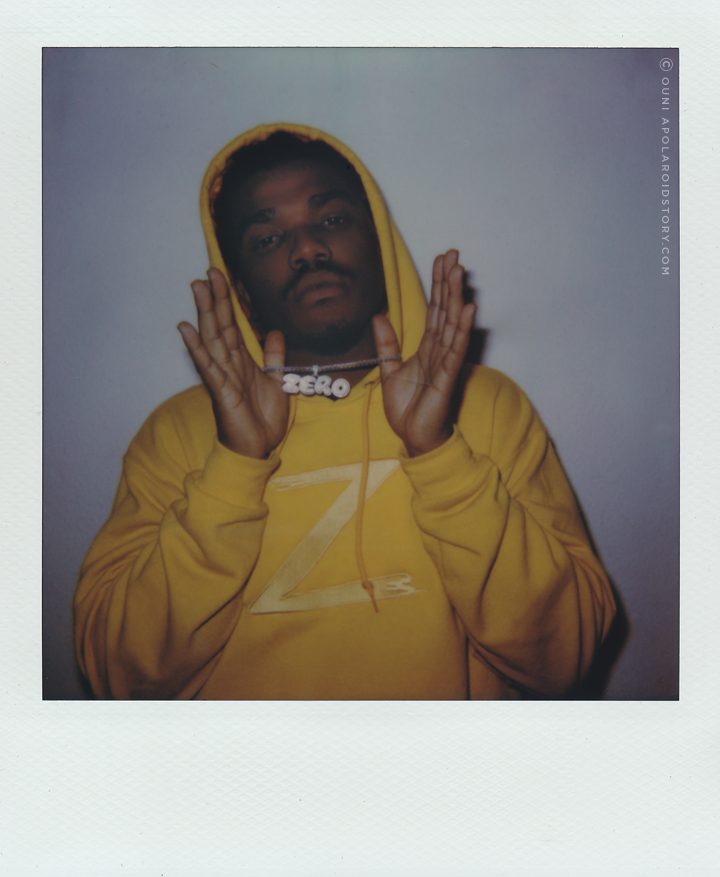 "We zero fatiguing, I pledge my allegiance." 
Introducing Christopher Smith Jr, better known as SMINO.  Not familiar with this fella hailing from St. Louis, Missouri who rocks a southern accent as thick as a snicker and as catchy as Chingy? ? Let me be so kind to introduce you real quick.
Although born in a very musical household in St.Louis, Smino decided to move to Chicago once he decided he would pursue music as a professional career. It was in Chicago he met his close friend and main producer Monte Booker (who's mostly responsible for Smino's overall soundscape and globally known as a producer part of the Soulection platform) and where he connected early on with Chicago based artists like Mick Jenkins, NoName and Saba. After the release of his first EP S!ckS!ckS!ck in 2015  Smino got some buzz going with his second project ''blkjuptr' released in 2016 but really made the world look twice when his debut album 'BLKSWN' in 2017 came out; a solid introductionary body of work with 18 whopping tracks featuring a fresh wave of under the radar talent like Ravyn Lenae, Bari, Noname, theMIND, Jay2, Via Rosa, Drea Smith, and Akenya. From the entire album 'Anita' – a soulful 'good girlfriend' appreciation track – became his biggest record to date and counts as a fan sing-along favorite. (My personal favorites are Wild Irish Roses, Maraca, Glass Flows, B Role, Long Run, Rickie Millions and Amphetamine)
Live performances are a pretty big deal for SMINO so he didn't hesitate when the opportunity came along to hop on tours supporting artists like Mick Jenkins, SZA and T-Pain to get his name and repertoire out there. Besides that Smino also teamed up with his trusted artists in crime Bari, Jay2, Ravyn Lenae and Monte Booker to create the 'Zero Fatigue'  music collective. Fun fact. Under the 'Zero Fatigue' brand Smino launched a collection of hoodies with silk lining in the hoody, something many African people rocking braids can appreciate since it protects your 'coiff' from being messed up once you put the hoodie back down. This is a very smart and innovative way of playing around with a need existing on the market while matching it with the need for merchandise, needless to say, the hoodie sweater series is sold out most of the time.
Besides all the necessary facts, how would I describe Smino his music? Well. If D'Angelo had a secret son in St Louis, Smino would be his name. Don't get me wrong, I know Smino is not a multi instrumentalist and top-notch producer like D'Angelo is, although he does play the drums. There are just so many of the same qualities I see when it comes to star power, melody and harmonies, effortless talent, a hunger for experimental sounds, the roots and incorporation of Black Church culture in his performance, the streets-smart way in his delivery, the confidence and his emphasis on how important his live shows are. Smino is the real deal. Rapping, crooning, flowing, harmonising, screaming, goofing around with word and sound play….this dude can do it all in one track. Smino describes himself as 'a project man', who rather delivers a conceptual body of work then just singles here and there, so when you go through 'BlkSwn' you absolutely feel the depth and the layers of the focus, intention and personality glimpses  he leaves behind in his music. If there's one track on the album that could work as 'the elevator pitch' of his debut then 'B Role' says it all. It gives a little taste of the type of different dressings Smi can flavour his food with in only one meal. The track really stirred my attention for some reason, the intro is gloomy,  the flow wakes you up, the production is rich and haunting, the hooks are sexy, the different harmonies give the track more body, conceptually it's an interesting track!  Another thing I really appreciate about Smino is the many 'under the radar' artists he subtly introduces you to and the absolute confidence to share many of his tracks with female artists who really dominate the mood in a contributive way. It shows Smino his decision-making is based on what is best for the song and not the ego. Also, I missed those type of back and forth tracks where two different artists can tell a different story in one song. So yeah. I'm all here for Smi. I do have to admit, if I really wanted to understand éverything Smino said on his debut album I had to head over to Genius from time to time because of his thick accent and the sometimes quick delivery of wordplay and sounds. It might come across different if English is your native language of course.
I had the chance to sit down with SMINO during his passage at Couleur Cafe Festival in Brussels, Belgium. Watch us talk about Brussels Sprouts, his debut BLKSWN, his relationship with Chicago artists like NoName, Mick Jenkins and Saba, his love for cooking food, his connection with T-Pain, the artists he would pick if he was the curator of XXL Magazine's Freshman Class Cypher, being an example for kids in St. Louis and his yearly charity work and…. doobies. I hope you enjoy. Don't forget to hit that subscribe button while you're there! 😉
Exhibit:
Now this is the story behind the Polaroid.
As many of you know by now, festivals are not my favorite location to do an interview since I'm pretty challenged in sound but also in time. Artists sometimes come straight from the airport to land immediately on the stage, other times they arrive half a day earlier completely jet lagged, but mostly an artist festival schedule is pretty tight and doesn't leave much room for interviews. In most cases, many of the artists I interview don't even make time in their schedule to do interviews in Belgium since we are such a small country and therefor also a very small almost irrelevant market. Most artists and managements decide to pass in Belgium to perform but make time in their travel schedule for cities like Amsterdam, Paris, London and Berlin to do some interviews with big platforms. I mean, can you blame them? Many artists are not always up to do interviews on a festival site, things are hectic and noisy, artists are mostly hungry, tired from the travel, some are just focused on getting a little moment for themselves before they hit the stage, others want to walk around the festival backstage area to meet some fellow artists on tour, others just want to smoke a joint and chill before they go on stage, long story short, the variables on a festival for interviews are always to be taken in consideration. It's never a priority. So mainly for that reason I decided to prepare an interview that was lighter and shorter than my usual approach and has a more introductory vibe instead of going super deep in his discography. Turned out that was a good decision, because straight after my Masego interview was finished I was briefed that the Smino interview might be cancelled because Smino and his team suffered an eight-hour flight delay and was about to miss his time slot on the festival. These things happen. I told them that I would wait it out and if they by any chance would be down to still do the interview after his performance then me and my team would be ready for them. His team told me that they literally had 'a travel day from hell' and barely even had the time to change clothes, but that they would see how things played out. Smino completely murdered his performance starting out in front of a crowd of approximately 150 which he managed to singlehandedly grow to about 500 just by the level of his engagement and energy he shared with the people who were surrounding the stage, whether they were standing in front of him at the stage or merely passing by his stage. He drew them all in and make them stand still for him. What was even more impressive is that the stage he was playing on was (in my personal opinion) way to close to the main stage of the festival where the main act and closing artist of the festival Young Thug was performing at the same time. The flight delay not only caused his performance to be re-scheduled but also put him in the position to lose many music lovers to Young Thug who was almost in the midst of his set and had a huge crowd in front of him. Take in consideration that Smino came straight from the airport to the festival, didn't even change clothes and to jump on stage with the energy and positive mindset Smino displayed was even more impressive to me. I've seen enough upcoming artists way bigger than Smi being super sloppy and nonchalant on stage. And as I have stated many times before, the hits may get you the buzz, but the performance on stage will determine how many years you will be able to eat from live bookings, an import income stream in this era where music is barely sold in physical copies and streaming requires millions of plays to become really profitable. So to show up like that and then make the conscious decision to still do that 1AM interview in this little country for this platform you don't have a clue about and show up  with such a friendly attitude (that goes for both him as his tour manager and the crew he travels with) was just very impressive to me. That's simply how you will cut yourself from the pack and stand out because people and fans remember this. I love an artist who is not afraid to put the work in.
I absolutely love that moment when an artist just blows you away. My very first concert was D'Angelo. I was 19-year-old and I honestly didn't believe my eyes. Never ever did I see an artist who demanded such a focus from the crowd by merely letting the music speak. If you ever saw D'Angelo during his Voodoo days perform live you probably understand. It feels like you are being sucked into a black hole only to find yourself in an altered universe where the music controls the vibration in the air and the tempo of time. Smino definitely finds himself in that realm. This is an artist that can be booked on the highbrow NorthSea Jazz Festival as on any  hip contemporary music festival but whether you are familiar with his work or not, it doesn't matter because his live performance will draw your attention regardless. Smino titled his debut 'BlkSwn' (aka Black Swan) as a reference to something that is extremely rare to see in your lifetime.  I know the term 'diamond in the rough' is easily used these days, and understandably so, many talented people have the chance to build a career for themselves more than was ever possible in the music industry. But Smino is not just any diamond in the rough. A Carbonado Diamond (also known as Black Diamond) is considered to be one of the most rarest diamonds in the world since it's allegedly linked to extraterrestrial origin and you can only find them in certain places on this earth. That's exactly what I think when I think of Smino. Time (and assume a lot of pressure) will determinate what type of diamond Smino will become but un till he reaches that supernova status, I suggest you simply buy a ticket to his live show and find out for yourselves.
Smino is gearing up for his sophomore album due for release somewhere in 2018. His latest releases leading up to the new work are 'New Coupe, Who Dis' featuring Mick Jenkins) and 'Coupe Se Yern'.
I leave you with the Polaroids we took that night at 2AM. (yup. it was that late, Smino is thàt cool.)
Special thanks to Pamela Evbuomwan, Andy G. Mutanga, Jeremy D'Hamers & Universal Music Belgium for their contribution to this feature.