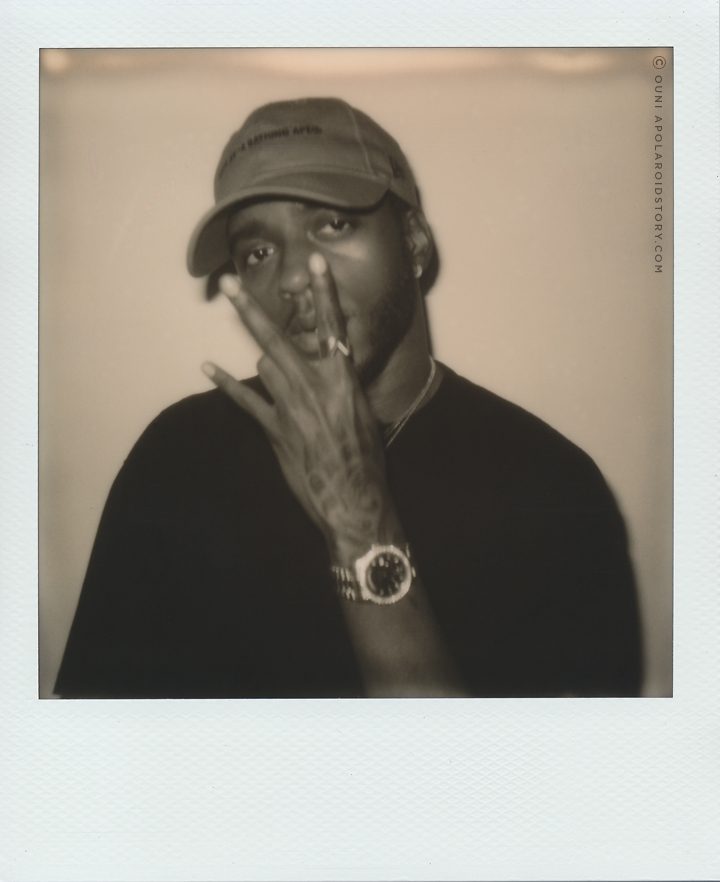 Meet Ricardo Valdez Valentine, better known as 6LACK, born in Baltimore but hailing from Atlanta, Georgia!  Not familiar with this timid Grammy nominated artist who is part of the slowly rising 'Spillage Village' collective with a peculiar love for huge grizzly bears and a healthy affinity for the number 6?  Let me be so kind to introduce you real quick.
All current accomplishments and accolades aside, 6lack his journey in music has not been the most easiest kick-off.  Starting out as a battle rapper (did you peep Young Thug in that link btw?) which gave him the confidence and extensive vocabulary flow one would need in the music business, 6lack landed his first record deal somewhere in 2011 which didn't go anywhere and got him stuck for almost 5 years. Unfortunately a more than familiar story for many artists. It's during those years 6lack was challenged financially and went from being homeless to sleeping in recording studios to eventually meeting J.I.D at a show they both performed at. That encounter resulted in a temporary home for 6lack,  a creative shelter in a house that was shared by both J.I.D as EARTHGANG. From then on 6lack became part of a collective group called 'Spillage Village' which resulted in a ton of collaborative tracks. (check 'Pussy On Repeat')  When 6lack was finally  freed from his former label, stars aligned and he found a new team and label home with Love Renaissance /Interscope. In 2016 6lack released his gloomy debut titled 'Free 6lack' with 'PRBLMS' being the lead single. The video for the track (starring a real grizzly bear) recently hit 100 million views. This very personal project recounting failed relationships and honest life struggles resonated with many newfound fans, unexpectedly catapulting 6lack in the public eye in a way many debuting artists can only dream off.  (Favorite tracks of his debut are 'Getting Old' and 'Ex-Calling') It didn't stop there, because later in 2018 it was announced that his debut was nominated for a Grammy Award, more notably in the category for Best Urban Contemporary Album ànd Best Rap/Sung performance.  Talking about a defining turn on the wheel of fortune? Nominations and awards aside, 6lack remained his low-key self, stayed focused and teamed up with a bunch of different artists like Jhene Aiko, Dreezy  and Timbaland to mention a few.  Besides constantly making new music for both him as other artists as a songwriter and becoming a father (appropriately naming his daugher Syx) 6lack also hopped on an extensive tour with both the Weeknd and Chris Brown, perfecting his own stage performance while observing his superstar peers up close and personal.
6lack is currently preparing to release his sophomore album, personally for me, the defining moment in an artists' career to measure whether they are here to stay or not. For now, 6lack surely isn't planning to leave his coveted spot in the galaxy of rising stars and already released a first contemplative single titled 'Switch' to keep his fans warm, but also hopped on a more lighthearted track than we are used to from him with R'n'B superstars Khalid and Ty Dolla Sign, titled 'OTW'. For such a low-key, down to earth guy, 6lack made damn sure the world would not question his Grammy nomination for one second by staying productive, keeping things creative and yes, even doing interviews. During his come up in 2016 many compared him to Bryson Tiller who had much more hype surrounding him at the time. The main difference here is, 6lack has no problem talking about his music, his journey, where he comes from, even with a Grammy nomination to his name. That says something. Bryson Tiller chose to become another mysterious R'n'B enigma, but in today's music industry that's a very tricky role to take on, especially since every talented rapper or singer can release music from their bedroom now. Not doing interviews and trying to stay super mysterious only worked for The Weeknd till some point. While working on his debut, 6lack often mentions he had the word 'relatable' on his white board and the power of being relatable will always trump a forced mysterious and 'deep' image,  especially in this era where fans are fickle and there is so much music out for people to consume, that if you don't make the effort to connect with your fans, talk about your work in other countries, or even be open to make new fans through interviews, then you can be so mysterious to the point that you are nothing more than another dim lit star in the universe that everybody forgets about.  6lack wants to be 6rilliant and is pretty determined to put the work in to keep his star power LIT. Atleast, that's how it comes across to me. But who am I.
I was blessed to speak with 6lack during his passage at Les Ardentes Festival 2018 in Belgium. Watch us talk about how he looks back at his celebrated Grammy nominated debut album,  his connection to J.I.D, EarthGang and Spillage Village, how being lyrically relatable is important for him, who he would pick if he could curate the XXL Magazine 'Freshman Class' cypher, how men in the hiphop industry have the responsibility to lift the invisible ceiling it still holds for the women in the game, working with legends like T-Pain and Timbaland, and last but not least we go over a few speculations regarding his sophomore album that is due for release in 2018.
Exhibit:
6lack is part of fresh wave of new Atlanta artists who are challenging the current  status quo about how the Atlanta sound should evolve, without losing the roots of the trap genre while honouring the southern legends that came and paved the way before them. Time will tell what the future holds for 6lack. He can rap. He can sing. He definitely holds his own on stage. After watching him perform during a hot afternoon in broad sunlight for a crowd that was more interested in the Belgium-Brazil football match than his music, I definitely give him the props for switching the crowds attention track by track. I think he is worth your money for an indoor concert. His production fits better with night than afternoon if you ask me. So festivals, book this man when the sun sets. Not at 5PM in the afternoon. Anyway.  I'll be here watching 6lacks journey from a far like Hubble, rooting, as I always do.
I leave you with the Polaroids we took that global warming hot afternoon. Our meeting was locked in less than 30minutes, Polaroids including, so I only could take a few since the interview took most of my time. Definitely hope we can re-do the Polaroids again some other time, pretty sure I could get out more of him, but I had to respect the time that was given that day so I had to do the Polaroids in approximately 3 minutes. As always: It is what it is.
Exhibit:
Thanks for catching up.
Love,
OUNI
Special thanks to Jeremy D'Hamers & Universal Belgium for their contributions to this story.