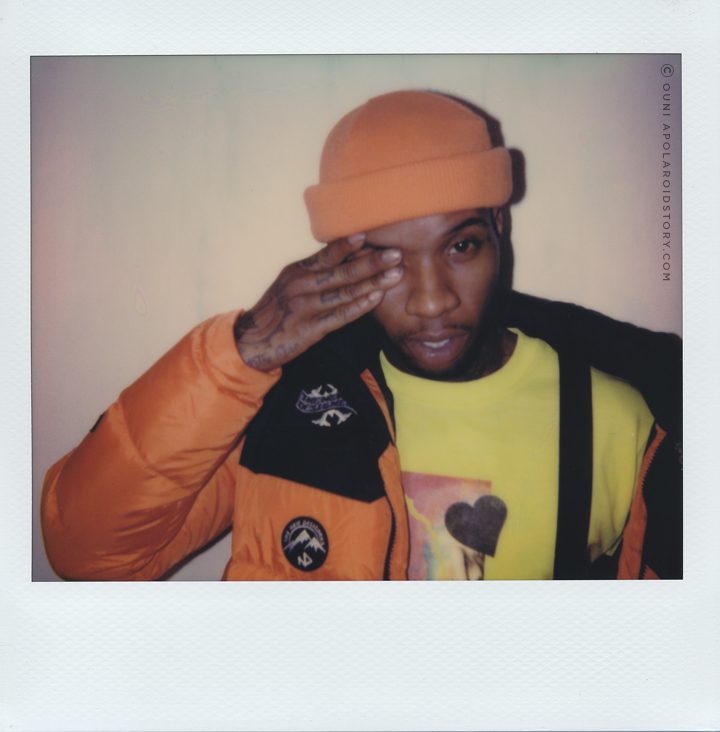 Very happy to have DayStar Peterson aka 'Argentina Fargo' but globally known as TORY LANEZ  on this modest little platform of mine again.
I'm assuming you are familiar with this Canadian vocalist, producer, song-writer and director from Toronto by now, but if you still happen to be completely out of the loop, I suggest you catch up on our first apolaroidstory.com interview feature we did a few years ago.
Normally I would write out a full follow-up on Tory his musical journey since we met in Amsterdam a few years ago, but this time around, the video edit alone took me 5 solid days (we had tremendous sound issues in the footage and it took me a long time to fine tune all of our productional and sound mistakes. I'm also thinking about starting to vlog what I write on the APS YouTube channel instead of writing it down to save time/energy, but I still need to look into that. So for now,  I don't have an intern for a couple of months and to stay a little bit sane I have to opt out on a written music follow-up like you guys are mostly used to. I apologize for that, but you all know APS is a non-profit and I'm batshit crazy for  keeping this platform alive anyway,  so please don't sweat it, it is what it is.
Now, let's go straight to the story behind the Polaroid!
Honestly, I was véry surprised to find out Tory was on a promo run and up for doing APolaroidStory.Com again. I've interviewed a lot of artist on the verge of their international breakthrough and it's always challenging to have them back in my modest run & gun set-up after they exploded globally. Mostly they have become to big to still schedule interview time, especially in Belgium. Most of the artists I end up interviewing save up their interview time in the bigger cities/countries of Europe where their market and fans are also way more expansive than tiny Belgium , a small country that is split in two different languages which makes it even harder for genres other than pop or rock or house to really thrive. However when I arrived at the Anciènne Belgique venue in Brussels where Tory was making a pitstop during his 12 European stops  'Memories Don't Die' tour.  I quickly found out that my timing of 5.30PM was going to be postponed. No problem, such things happen, and me and my team always calculate to be very flexible when we do features for APolaroidStory.Com, it's part of our content DNA to work instant and IN the moment. So sometimes, to get the type of features we do, mastering the art of patience is a must.
However, this interview ended up being postponed for a solid 6 hours (yup, welcome to my world) and eventually happened straight àfter his performance right àfter he did his VIP meet & greet run with two dozen of his closest local fans.
In the following video document you can watch us talk about the success of his sophomore album 'Memories Don't Die', his feedback about the term 'mumble rap', his explanation on why he feels he is still underrated, winning a Canadian Juno Award for 'Shooters', his feedback on Teyana Taylor's new album, how he enjoys to explore the cinematic part of him by directing and editing his own videos,  singing in Spanish, his brand new project 'Love Me Now?' and last but not least a personal fan appreciation moment all the while you can watch snippets of his incredible performance at Ancienne Belgique Brussels a few weeks ago. Enjoy! (ps: For the ones who know what I am talking about, yes… Beer Gate or should I say full glass of Duvel Gate is IN the video. Cheers!)
Exhibit:
I was very impressed with Tory after this interview. This man sung his heart out on stage, postponed an interview for 6 hours but still came through àfter his meet and greet and àfter he got thrown a full glass of Duvel beer into his face, ear and body. He was tired, his voice was almost gone and still he sat down with me at 11PM to do this interview, knowing very well I'm not the biggest fish in the game, more so, I'm a tiny little shrimp in a big ocean of content sharks, but he sat through the entire thing anyway and he acted  kind, professional and engaged. Their was a lòt of entourage around the backstage area, so it was hard to find some quietness but Tory really committed to our feature and I really respect him as a human being and professional for that. Besides that, I really want to emphasise the following. Where I was slightly disappointed with Tory his last passage in Belgium, where more than half of his show was an endless crowd walk exercise, which is nice for a minute, but personally for me, not my preference, especially if you are an artist who doesn't need those gimmicks. Tory does not need any gimmick. Let that be clear. Many hiphop artists use the turn up gimmicks of endless sloppy hype jumping and crowd surfing/walking/balcony climbing/stage diving because they lack the skillet of delivering an entertaining show on stage solely based on their voice or their ability to successfully rap on stage for a live crowd for more than 15min without sounding off or boring. This year Tory Lanez switched 360 degrees from his last show approach and all I can say is that it was one of the best performances of Tory Lanez I have ever seen. (I've seen him 3 times live in concert throughout his career) This time his entire show was nicely built up, there was a smooth mix of turn up versus straight up vocal dropping and he used the stage diving at the right time of his show, not the entire time of his show. His band was very well accustomed to Tory and his whole instrumental set-up on stage with his band (even though they were positioned mostly in the dark) really added an extra dimension to the classic Tory Lanez sound we all know, especially the pianist made a solid sound impression on the night. Besides that, Tory used the entire stage, he wasn't stagnant in movement and he constantly kept demanding engagement and connection from the crowd. He performed in a modestly filled Ancienne Belgique venue like it was his last show ever. Quit frankly, I don't know any other artist in the same genre or lane that can do what Tory does on stage besides Chris Brown but I have never seen or heard Chris Brown live so I have actually no clue how good Chris Brown his voice is live. While I was watching his performance I suddenly understood why he claims he is still underrated to this day. What I can say is this. I personally think he is a better performer than both Drake and Travis Scott. I also think he is a better rapper and singer than both of them. Tory finally arrived to superstar status and he didn't get their by accident. He got there by persistance, talent and an incredibly disciplined work flow. You could say Tory Lanez officially reached Kung-Fu status aka a level of supreme skill build from hard work and endless, endless repetition. I think the galaxy needs to make some room for another mega star, because Daystar is ready to shine and burn like the brightest of them all.
Last but not least. If you have never seen Tory Lanez live and he is passing in your neighbourhood for a small venue of like 500-1000 people, I strongly advice you to go, because you may never see Tory Lanez in a small venue again, because if you ask me? Tory Lanez is football stadium and massive arena venues ready, so if you can catch him in an intimate setting, go!
I leave you with the Polaroids we took that night.
Exhibit:
Special thanks to Chau B, Jeremy D'Hamers & Philippe for their contributions to this feature.