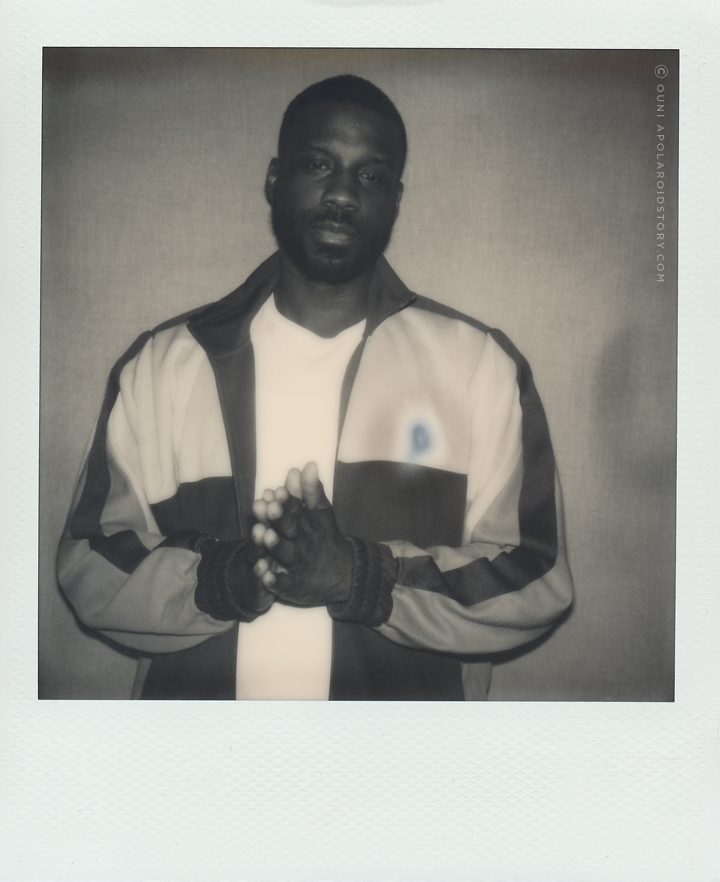 shot with Polaroid Originals B&W SX70 Film.
Happy (and also a bit proud) to introduce you to the third TDE artist I have the opportunity to feature on this modest little platform of mine. Not familiar with Johnny Reed Mckenzie Jr aka 'East Side Johnny' but mostly known as JAY ROCK hailing from Watts, California? Let me be so kind to introduce you real quick!
When Anthony 'Top Dawg' Tiffith, founder of Top Dawg Entertainment met Jay Rock somewhere in 2006 neither of them probably understood the magnitude of that encounter. Although TDE is currently worldwide known to be thé most prestigious hiphop label that hosts Kendrick Lamar, it was Jay Rock who actually kicked off the notorious artist roster that over the years would expand to become the home of artists like Isaiah Rashad, SZA, Ab-Soul, SchoolBoy Q, Kendrick Lamar, Reason, Sir and most recently Zacari.
Yes, Jay Rock was the first artist on the label but the universe made sure his cards were set up to receive worldwide recognition last. Jay Rock was sort of TDE's first test ride with the label heads finding out the ins and outs of the music industry, figuring out how to manage artists and deal with the hurdles of developing a successful roster all surrounded Jay Rock his come-up journey. (You can watch the early beginnings of Jay Rock his career via this 'Road To Redemption' documentary btw) Since releasing music in 2006 through different mixtape projects, Jay Rock received his first 'commercial' breakthrough in 2008 with the track 'All My Life In The Ghetto' featuring a very young Kendrick ànd veteran in the game Lil Wayne. With Jay Rock officially claiming TDE as his label another bond was made, because it was through his connection with TDE Jay Rock eventually met Ab-Soul and SchoolBoy Q, which he later teamed up with to become the infamous 'Black Hippy' collective. In 2011 his second single 'Hood Gone Love It' was released, followed by his debut album 'Follow Me Home'.  
Jay Rock his first worldwide recognition came around 2012 due to his feature presence on Kendrick Lamar's critically acclaimed 'Money Trees' track where Jay Rock received many praises in the hiphop community for his verse. (Another standout presence for Jay Rock was his feature verse on U.O.E.N.O with Black Hippy. Things were really about the kick off to another level when Jay Rock prepared to release his sophomore album '90059' with lead single 'Vice City' in 2015 but unfortunate fate hit and benched Jay Rock with a severe motorcycle accident. This forced the Watts rapper to cancel most of his promo run, including a big tour. After a few months of healing and getting his mind straight, Jay Rock went back in the booth and delivered his most intimate body of work yet, titled 'Redemption', where he recounts the struggles of his journey, his healing process after the accident and his relentlessness and patience to succeed nonetheless. The album delivered 2 career defining tracks, 'King's Dead' which simultaneously scored the TDE curated soundtrack of box office hit and global phenomenon 'Black Panther' and 'Win' , thé anthem for people who really réally need and deserve a fucking win. Although Belgium ended up 3rd in the FIFA Worldcup of 2018, due to internal 'music scandals', Belgium never had an official football anthem for the Red Devils during their amazing run to the top of the tournament. I passionately lobbied to use 'WIN' as the anthem for the Belgian Red Devils, but unfortunately I landed on deaf ears.
All jokes aside. 'Kings' Dead' and 'Win' ended up being nominated for a total of 3 '2019 Grammy Award' nominations more specifically in the 'Best Rap Performance' category as in the 'Best Rap Song' category where both tracks were nominated in that same category. Jay Rock eventually took home the win for 'Best Rap Performance' with 'King's Dead' (which tied with Anderson.Paak's 'Bubblin' to stay 100 procent correct.) You can re-watch Jay Rock his Grammy moment here. Not bad for somebody who had to take a career break in the midst of their come up and waited a whopping 13 years for any type of industry recognition. Patience and perseverance is definitely one of Jay Rock's virtues. Personal standout tracks from Redemption are 'Tap Out' ft Jeremih, 'Redemption' ft SZA & 'The Other Side' ft Mozzy + DCMBR.
I had the opportunity to sit down with Jay Rock , right before his performance at Ancienne Belgique, Brussels during thepassage of his European 'Big Redemption Tour' and had a chat with the TDE MC about his Grammy win, early inspirations, OG's in the game, his favorite rap album of all time, a few highlights from '90059' and 'Redemption', his collab with Jeremih, upcoming female MC's and vocalists in the game, label mate crooner Sir, Grammy 'Best Rap Album' category politics and… big booty.
I hope you enjoy the conversation. (Hit that subscribe button while you are there…)
Exhibit:
I leave you with the Polaroids we took that afternoon.
Exhibits:
Thanks for checking in.
OUNI.
Special thanks to Jeremy D'Hamers, Pamela Evbuomwan, Universal Music Belgium and Anciènne Belgique for their contributions to this feature.
ps: still experiencing a ton of WordPress bugs due to a new update that we still have to figure out, that's why the Polaroids are displayed without a slide for now (our slide function is not working atm) and to our big frustration the copy is not outlined until we figure out the issues we are currently experiencing. Thanks for understanding! OUNI x