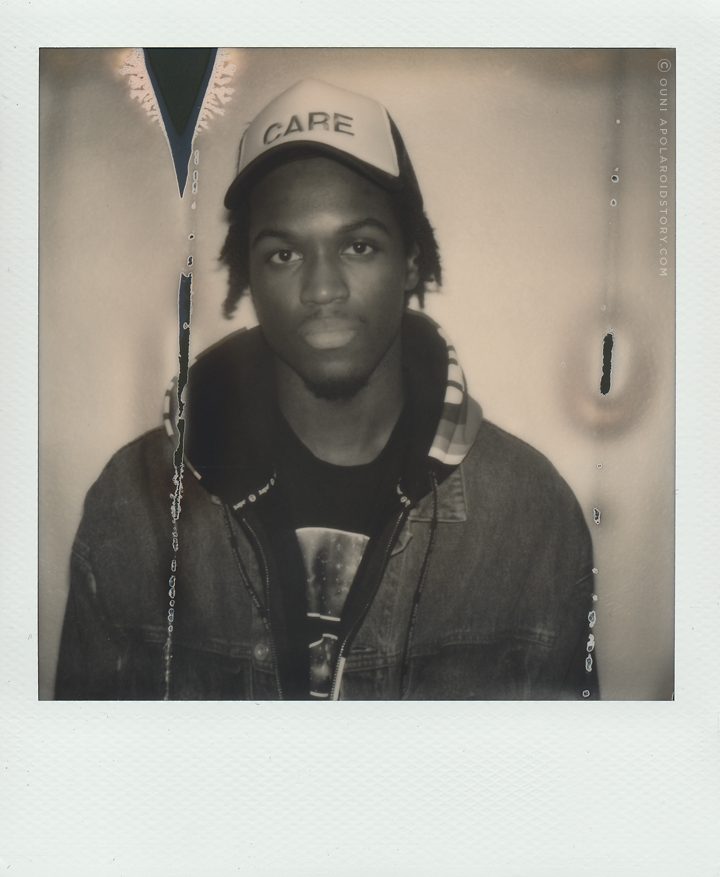 Happy to introduce you to Taj Malik Chandler better known as SABA. Not familiar with this independent Chicago MC and producer who's critically acclaimed sophomore album 'CARE FOR ME' landed on many 'Best 2018 Rap Album' list? Let me be so kind to introduce you real quick!
Many grumpy old-school hiphop fan might claim this era is full of mumble rappers and not enough real MC's and that 'hiphop is dead' but that is only said by the ones who are looking in the wrong way or relying on bland mainstream channels for their new hiphop talent high lights. Part of a rising pack of artists hailing from Chicago, Saba is definitely not an artist you can accuse of being unable to rap. This young man spits bars. Coming from a musical house hold (his father is R'n'B artist 'Chandlar' who you can catch providing vocals for SABA his most recent NPR Tiny Desk live session.) Saba officially kicked off his music career by the release of two mixtapes titled GETCOMFORTable and ComfortZone but the first time I saw Saba his name popping up was on Chance The Rappers' 'ACID RAP' project. You might also recognise his name from his producer and feature credit on fellow Chicago artist NoName's incredible 'Telephone' project. Saba's own debut project 'BUCKET LIST' was released in 2016 with personal favorites being 'Photosynthesis' and 'World In My Hands' to name a few. Although Saba was buzzing slow but steady amongst different modern day rap connoisseurs, it was his intimate and very reflective sophomore album 'CARE FOR ME' released in 2018 that gave him the global spotlight he so much deserved. The album is an introspective glimpse of SABA his everyday life struggles, whether he is dealing with loneliness, toxic relationships or the very impactful death of a close family member, every song beautifully recounts what SABA is feeling in a uncensored, honest and vulnerable way that different people from different backgrounds can easily connect to. That same vulnerability is probably the reason why this album is such a standout in today's hiphop realm, where easy braggadocio is the norm and the art of poetic storytelling and vulnerable lyricsm is lost in the mainstream generic (c)rap our social timelines hit in our faces. I would highlight some personal favorites from his 'Care For Me' album, but I have to admit that I love every track (no cap) and I do recommend to listen to that entire body of work, if you haven't already.
I had the opportunity to briefly sit down with Saba right before his performance at Botanique Brussels (Belgium) where we chatted over his love for Bone Thugs-N-Harmony, his sophomore album 'Care For Me', producing for NoName and his relationship with fellow producer Phoelix , we discuss 'The Art Of The Freestyle' , which artists he would pick if he would be in charge of curating the XXL Freshman Cypher battle and a we go over a few of the upcoming female MC's and vocalist he has on his playlist. I hope you enjoy this video interview!
(Please hit the subscribe button while you are there? Grow with us!)
Last but not least, I want to highlight that SABA is an excellent live performer. He is engaged, grateful for every fan that shows up regardless how big the venue is and gives his all on stage. He talks to his fans during and after his show, thanking them for purchasing his art and never ceases to keep his crowd entertained. Belgium is known to have a 'tame' crowd. Belgians are shy but curious. Most Belgian crowds are not like the rowdy lyric chanting wolfpacks you usually see in cities like Amsterdam, Paris or London where many African American rap artists are mostly welcomed like superstar heroes. I noticed how well SABA dealt with his shy crowd and it was beautiful and refreshing to see how he charmingly demanded their attention and kept them enthusiastic and engaged. Over the years, I've seen other debuting rising artists react a bit offended by a Belgian crowd because they expect to be more engaging and they get a bit insecure when a Belgian audience is just watching more silent, chill and modest and not really yelling, chanting or jumping all the time. Without generalising to much, it is known that Belgians don't really do that, but that does not mean the crowd does not love the artist. All I could think off when I saw him walking off the stage, is that SABA is truly talented in different ways and that if stars align, he might become one of the biggest stars in contemporary rap in the years to come. He has many things going for him. At age 25 he already is an excellent rapper, a compelling songwriter, a great producer and last but least a charming performer, who seems grounded and well… looks handsome. Am I wrong to bet that he could be the next lyrical rapper coming for J Cole's thrown? As always time will tell…..
Meanwhile, you can enjoy the latest release from Saba's PIVOT GANG collective (consisting of both friends as family members) titled 'You Can't Sit With Us'
I leave you with the Polaroids we took that evening. 
Thanks for checking in.
OUNI
Special thanks to Jeremy D'Hamers, Bilal Lalib, Michelle McDevitt & Rory for their contributions to this feature.